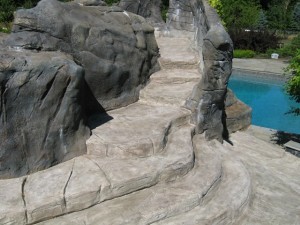 No matter the type of property you are working on, adding a limestone coating to a concrete driveway can dramatically improve its value. This coating is simple to apply, as it doesn't require tearing up the existing driveway, and it will look just like limestone, providing all the benefits of natural stone without the high cost or labor time. SunStone from Sundek is perhaps the simplest and highest-quality option to add the appearance of limestone to a concrete surface. Best of all, it is versatile enough to be applied to brick, sheetrock, stucco, walls, foam, or other surfaces as well, so the limestone coating can continue past the driveway regardless of the surface underneath.
Adds to Curb Appeal
One of the biggest ways that a limestone-coated concrete driveway improves the property value is by adding to its curb appeal. When someone first looks at a home, they notice the landscaping, the overall exterior appearance of the home, and the condition of the driveway and sidewalks. A driveway that appears to be made of limestone instantly gives the house an upscale appearance as limestone is an expensive and durable material. It is also much more visually appealing than a standard driveway made from a solid piece of concrete without any colors or patterns.
Increases Durability
Because a limestone coating is a type of concrete overlay, it also improves the durability of the driveway. A driveway with cracks or minor spalling will lead to a lower property value than one that is in perfect shape. That is because surfaces without these imperfections last longer, so future property owners do not have to worry about immediate repairs.
Small Investment, Large Gains
Not only does a limestone-coated concrete driveway improve the property value, it does so at a relatively low cost. Since the old driveway doesn't need to be torn up, there are reduced costs for both labor and supplies, giving property owners the ability to make a small investment and notice large gains in the value of their property. This is especially true when SunStone is installed by trained professionals, as it will be long-lasting and truly look like limestone to the untrained eye.